I did it!!

On June 8, 2013 I completed my first Spartan Sprint in Tuxedo, NY and became a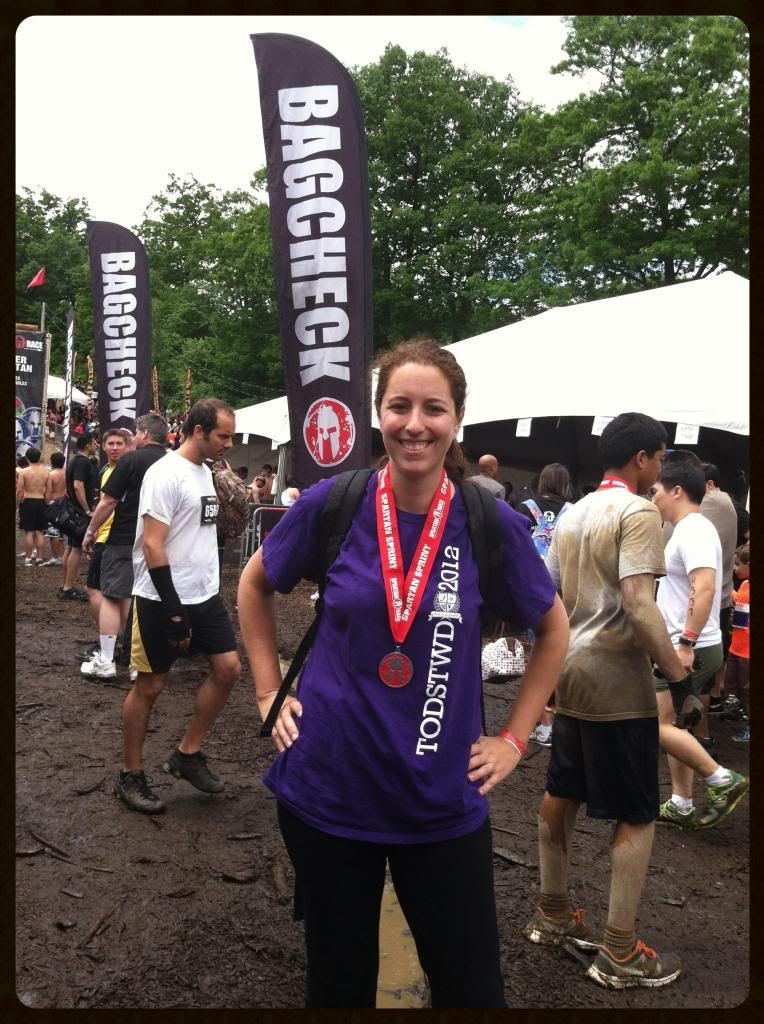 Spartan!
As I had mentioned before, I wasn't competing for a time (which was good because mine stunk. lol) but only to complete the course as an accomplishment of my strength.
I did exactly that and was extremely proud to cross that finish line.
Call me crazy, but the race itself I found to be kind of fun.

Mastering the different obstacles was my favorite part (except for one obstacle).

However, all the hill mountain climbing I could have done without. Thankfully we had a perfect temperature that day so it was perfect running weather.

I started off the race with a clear head and high expectations.

That mindset was crushed not even 5 minutes into the race when we were hit with our first obstacle - running through 3 trenches of waist high muddy water while you got sprayed with more water.

Well, that certainly woke us up!

It also made for some nice sloshy sneakers to climb the steep hill of rocks that was up next.
It POURED the entire day before I was scheduled to run the race.

All this extra rain made the race site an (even bigger) mud pit and also made all of the rocky trails we were running on dangerously slippery.

I watched as other racers slipped and slided past me twisting their ankles as they ran the course.

It wasn't worth breaking an ankle so we walked a lot of the trails where it was extremely slippery and ran in the places where we could.

This of course slowed our team down quite a bit.
Some of the other obstacles that we had to overcome over the 4 miles included:
- Lots and lots of walls (5, 6, 7 & 8 feet tall)
- Herculean Pull (using a pulley lift a concrete block 10 ft off the ground & back down)
- Tractor Pull (drag a concrete block connected to a chain up a hill & back)
- T
ire Pull (drag a huge tire down a hill then using a rope pull it back up)
- 40 lb Sandbag carry (up & down a hill)
- Tire Drill (running through tires like the old football drill)
- Log carry (up & down a hill)
- Muddy "slip & slide" under ropes & into a trench of water
For any obstacle that you are unable to complete the penalty is 30 burpees.

If you don't know what a burpee is check out HERE for an explanation.

Luckily I only failed 3 obstacles (rope climb, spear throw & transverse wall).

The barbed wire crawl was by far the worst obstacle in the entire race.

I was dreading it the entire day and couldn't wait to get across it and put it behind me.

You can see the "oh s**t" look on my face in the pictures.

That's pretty much exactly what I was thinking. It hurt like a mother crawling over the rocks and I have the bruises and scratches to prove it.
Crossing that finish line was one of the most satisfying moments I've experienced in a long time.

My hard work training certainly paid off and I couldn't imagine having done this at my previous weight.

Although I was sore and a bit bruised and scratched up afterwards, it was completely worth it.
The scratches will heal.

The bruises will fade.

My muscles will loosen.

But the experience will stay with me forever.
I can't wait until next year.

Aroooo!!!!