Before I get into this post I wanted to share my excitement that I received my first blog award!!!!

Yaaay!

I'd like to thank the academy…..um, I mean Karen at Diapers, Dishes, Lessons & Homework for honoring me with the Stylish Blogger Award!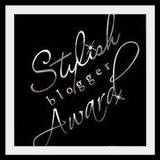 Apparently this award comes with some rules:
(1)
Thank the person who awarded you
(2)
Share 7 things about yourself
(3)
Pay it forward to new blogs you've discovered
Here are 7 things about me:
1. I'm an excel-a-holic. I have spreadsheets for everything!
2. I love to cook.

Every other year for Christmas Eve we host a huge family dinner for 20 people
3. I've visited over 113 cities in 16 countries
4. I can make 3 different sounds at the same time
5. I can be crafty, especially with party planning
6. When I was a kid I wanted to be a marine biologist, but ended up an accountant….go figure
7. I have a huge pet peeve of people who eat loudly (slurp, etc). It is disgusting & drives me insane.
The next part is kind of tough since I'm brand new to the blogging world and can't give back to who gave it to me.....so here goes.

These are some cool blogs I've come across in the last month.